One New York City institution had its 75th anniversary this week and another helped to celebrate.
The NYC landmark and world-famous Empire State Building lit up in ABC7 Eyewitness News blue on Thursday to celebrate the beloved station's jubilee. New York City Mayor Eric Adams also declared August 10 as "WABC-TV Day" throughout the Big Apple.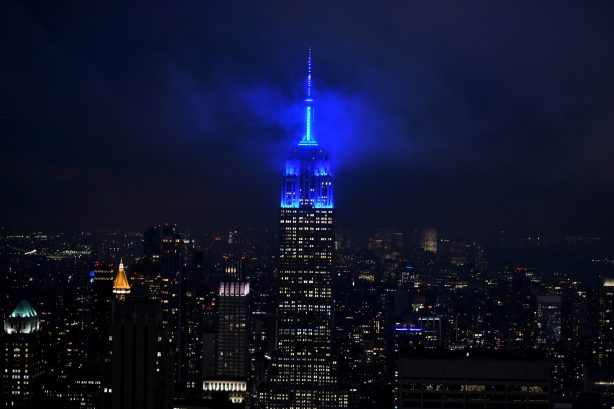 ABC7 has been a mainstay for the New York area for decades by covering some of the most important cultural events and newsworthy moments in the city's history.
"Over 75 years, this team has reported on some of the biggest stories in the city's history," Marilu Galvez, WABC President and General Manager, told employees on Thursday. "From the 9/11 attacks to the NYC blackouts, and of course, the most recent Covid pandemic—to name a few—you've been there for it all, providing breaking news, critical reporting, and important—often lifesaving—resources from the front lines."
Galvez added, "We don't just report on issues; we roll up our sleeves and do everything we can to support, celebrate and entertain New Yorkers."
"We shine a light on important organizations and community defining events like the NYC Marathon, the annual NYC Pride March, and the National Puerto Rican Day Parade, among others," she said. "And of course, we bring viewers the No. 1 syndicated daytime talk show with Live with Kelly and Mark, as well as America's favorite gameshows, Jeopardy! and Wheel of Fortune."
Chad Matthews, president of ABC Owned Television Stations, added he's "incredibly proud of all the amazing work, dedication, and community partnerships from the WABC and Live with Kelly and Markteams that led to today's milestone anniversary."
"I have no doubt this talented team will continue the excellence that our audience expects for many years to come," he said.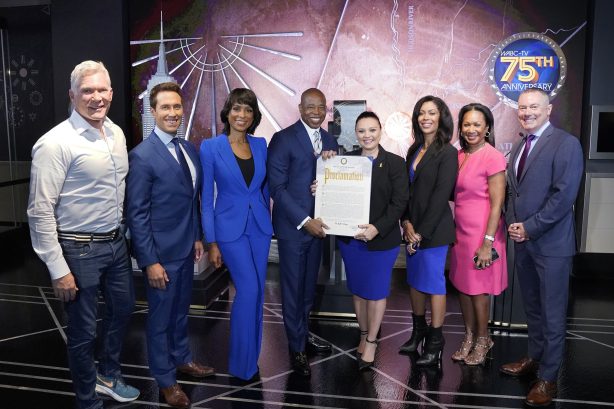 WABC-TV is the No. 1 station in the country and has held that position for more than 20 years. It produces more than 45 hours of live, local news and weather each week, Channel 7 Eyewitness News is the most-watched local news in New York and the United States.
"I always say our people are the best in the business and this amazing milestone and WABC's long reign as the No. 1 station in the country is a shining example," said Debra OConnell, president, Disney Entertainment Television Networks & TV Business Operations.
Mayor Adams dedicated the anniversary by saying that WABC has always been there to give New Yorkers "real information and allow people to familiarize themselves with how we navigate the challenging times."
"Lighting the Empire State Building the color that is representative of this station is only because you have lit our hearts for over 75 years," he added.